Therapies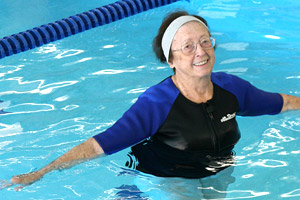 Aquatic Therapy
SoCal Physical Therapy is one of the only true providers of aquatic therapy in the Santa Clarita Valley. We have full access to both indoor and outdoor heated pool facilities where we take advantage of the benefits that aquatic therapy provides.
Aquatic therapy uses the physical properties of water to assist in patient healing and exercise performance. The buoyancy, viscosity and resistance of water helps reduce the pressure on joints, promotes tissue elasticity, strengthens muscles, and relaxes muscles to promote circulation and blood flow to injured areas.
At SoCal Physical Therapy, aquatic therapy has improved range of motion (ROM), flexibility, strength, core and trunk stability, and balance for all our clients, including those with sports-related injuries, post-surgical intervention, occupational injuries, and chronic pain. Our geriatric clients, in particular, have made substantial progress in improving their normal walking and overall balance. The warm water often times minimizes the fear of injury.
Diagnosis Treated
Osteoarthritis
Rheumatoid Arthritis
Fibromyalgia
Balance Deficits
DDD - Degenerative Disc Disease
Degenerative Joint Disease - DJD
Sports Rehabilitation
ACL Sprain / ACL Strain
MCL Sprain / MCL Strain
LCL Sprain / LCL Strain
PCL Sprain / PCL Strain
Ankle Sprain/Strain
Elbow Strain
Muscle Strain/Sprain
Patellofemoral Syndrome
Chondromalacia
Rotator Cuff Strain/ Sprain
Impingement Syndrome
Tendonitis (Shoulder, Elbow, Knee, Ankle)
Lateral Epicondylitis (Tennis Elbow)
Medial Epicondylitis (Golfers Elbow)
Hip Flexor Strain
Lumbar Sprain/Strain
Cervical Sprain/Strain
Shoulder subluxation/dislocation
Total Joint Replacements
Spine Surgery
Discectomy
Microdiscectomy
Laminectomy
Fusion
Disc Replacement
Foramenotomy
Reconstruction
ACL - Anterior Cruciate Ligament
MCL - Medial Collateral Ligament
PCL - Posterior Cruciate Ligament
LCL - Lateral Collateral Ligament
Knee
Arthroscopy
Chondroplasty
Meniscal Repair
Meniscectomy
Synovectomy
Ankle
Achilles Tendon Repair
Ankle Arthroscopy
Ankle Fusion
Bunionectomy
Triple Arthrodesis
Repair of Ankle Ligament Laxity
Shoulder
Shoulder Arthroscopy
Impingement
Rotator Cuff Repair
Shoulder Replacement
Acromioplasty
Repair of Labral Lesions
Repair of SLAP tears
Hand
Carpal Tunnel Release
Arthroplasty/ Joint Replacement
Total Joint Reconstruction
Thumb Fusion
Ligament Repair
Dupuytren's Contracture
Elbow
Arthroscpic Elbow Surgery
Decompression with medial Epicondylectomy, or anterior transposition
Lateral Epicondylitis Surgery
Medial Epicondylitis Surgery
More information on Aquatic Therapy